The Talks of the16th edition
Discover the program
The program of talks will give prominence to contemporary drawing around feminism and will give the floor to various speakers and art professionals (artists, curators, critics, collectors, directors of institutions, etc.). These meetings with international personalities will take place at the Espace Talks on level -1 of the Carreau du Temple. Each talk lasts 1 hour.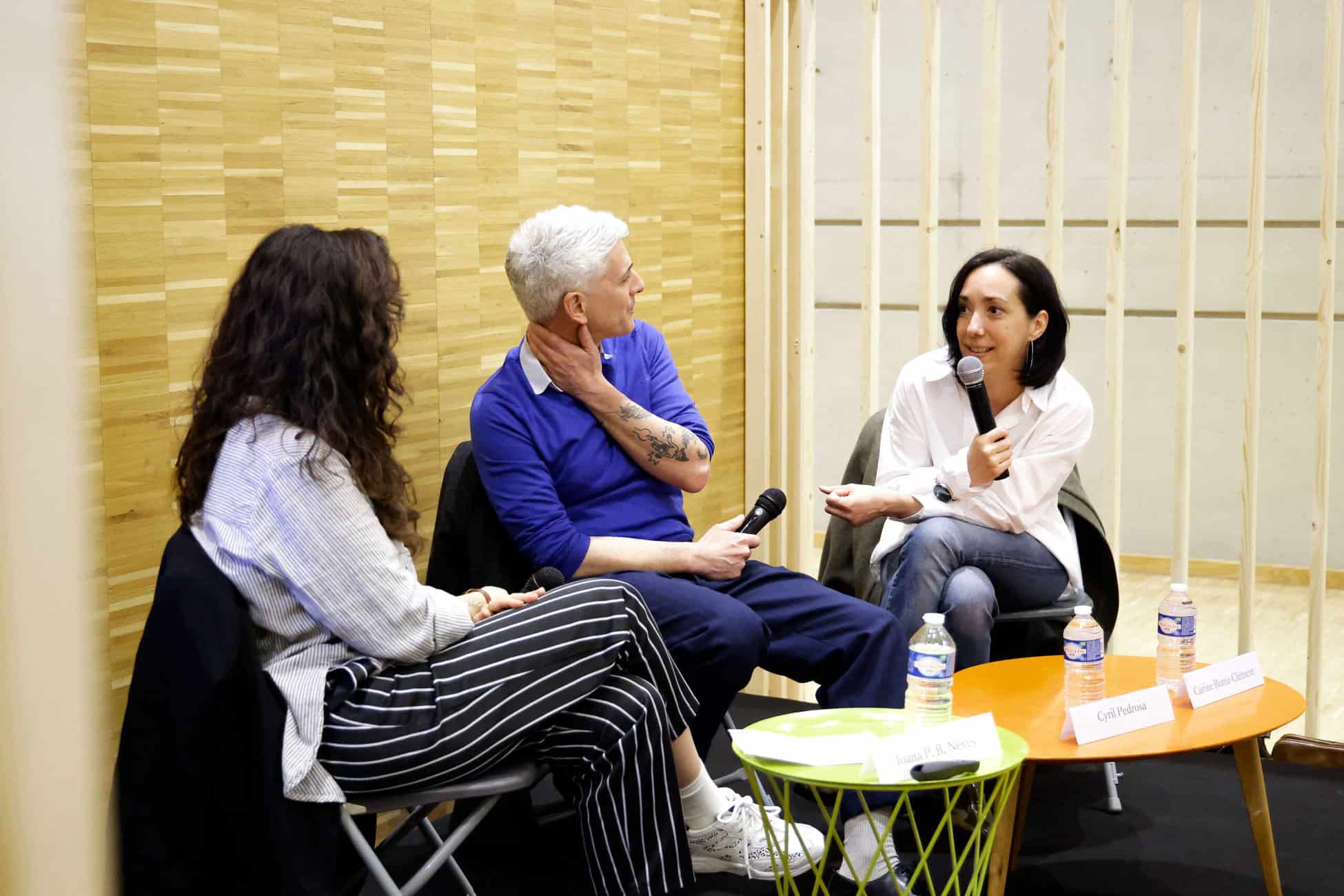 The feminine prism
Moderator: Joana P. R. Neves
With Elika Hedayat (artist); Myriam Mihindou (artist).
Tribute to Vera Molnár, Pioneer of Sensitive Computing
Moderator: Joana P. R. Neves
With Vincent Baby (art historian), Odile Aittouarès (gallery owner), François Nawrocki (curator at the Musée national d'art moderne Centre Pompidou).
Artist interview with François Olislaeger
Moderation: Pascal Neveux (Director of Frac Picardie)
Cosmic dance
Moderator: Joana P. R. Neves
with Karine Rougier (artist), Stephen Ellcock (writer).
From time to time: when disegno meets contemporary drawing
Moderator: Joana P. R. Neves
With Irina Zucca Alessandrelli (Curator of Ramo Collection and Milano Drawing Week) and Isabel Seligman (Monument Trust Curator of Modern and Contemporary Drawing in the Department of Prints and Drawings at the British Museum).
From comics to animation to contemporary art: a conversation with Cyril Pedrosa and Carine Roma
Moderator: Joana P. R. Neves
with Cyril Pedrosa and Carine Roma
Artist interview with David Tremlett
Moderator: Joana P. R. Neves
Art Faber
Moderator: Emil Sennewald (journalist, critic)
with Juliette Green (artist), Jérôme Duval Hamel (co-president of the Art faber collective), Carine Tissot (director of the Drawing Hotels Collection).
A DAILY PROGRAM OF MEETINGS WITH INTERNATIONAL PERSONALITIES
A privileged moment for the meeting of contemporary drawing professionals from all over the world, the fair gives the floor to speakers specialized in contemporary art around Talks and Artist Interviews. From performance to the place of women, through what drawing has to teach us, each year new themes complete our questions about this medium.
Enjoy this moment in video form with new illustrations.
The talks of the 2020 edition
15 years already... So what about drawing?
Collecting contemporary drawing
Artist interview: Jean-Luc Verna
Comics as a vector of teaching
Artist interview: Anaïs Lelièvre