Exhibition in partnership with La Cinémathèque Française
The exhibition All a Movie! is a dialogue between contemporary drawings and the non-film heritage of the French Cinematheque.
This year, DRAWING NOW Art Fair met the cinema in the spotlight.
The goal? Continue our commitment to demonstrate the transversality of drawing and to give to see the graph of cinematography, both on the side of cinema and that of contemporary drawing.
The exhibition Tout un film! A collection of specimens selected from the collections of La Cinémathèque Française, which mixes with the works of the artists' workshops as well as the collections of their galleries. Our selection highlights the cross influence of these two arts, from the storyboard to the very material of the film's making, celluloid.
Artistic director and production designer, Alex Tavoularis was also part of the decoration teams of King of New York and Snake Eyes by Abel Ferrara or some storyboards for the first episode of Star Wars (1977). But his main activity was above all that, somewhat mysterious, illustrator for the cinema, mostly in close collaboration with his brother Dean Tavoularis, the legendary artistic director who accompanied Coppola on many of his projects, including The Godfather (1972) and Jack (1996). In an interview for les Cahiers du cinéma (No. 665, March 2011), he describes their collaboration: "It was mainly my brother Alex who made the storyboards of the films on which I was a production designer; He was like my assistant. It was sometimes dealt with for a particular complex sequence, or sometimes for an entire film, as was the case for Coppola's Tucker."

Alex Tavoularis, Godfather Part II, 1973, storyboard on black and white paper, graphite pencil and felt Collection Cinémathèque Française © Alex Tavoularis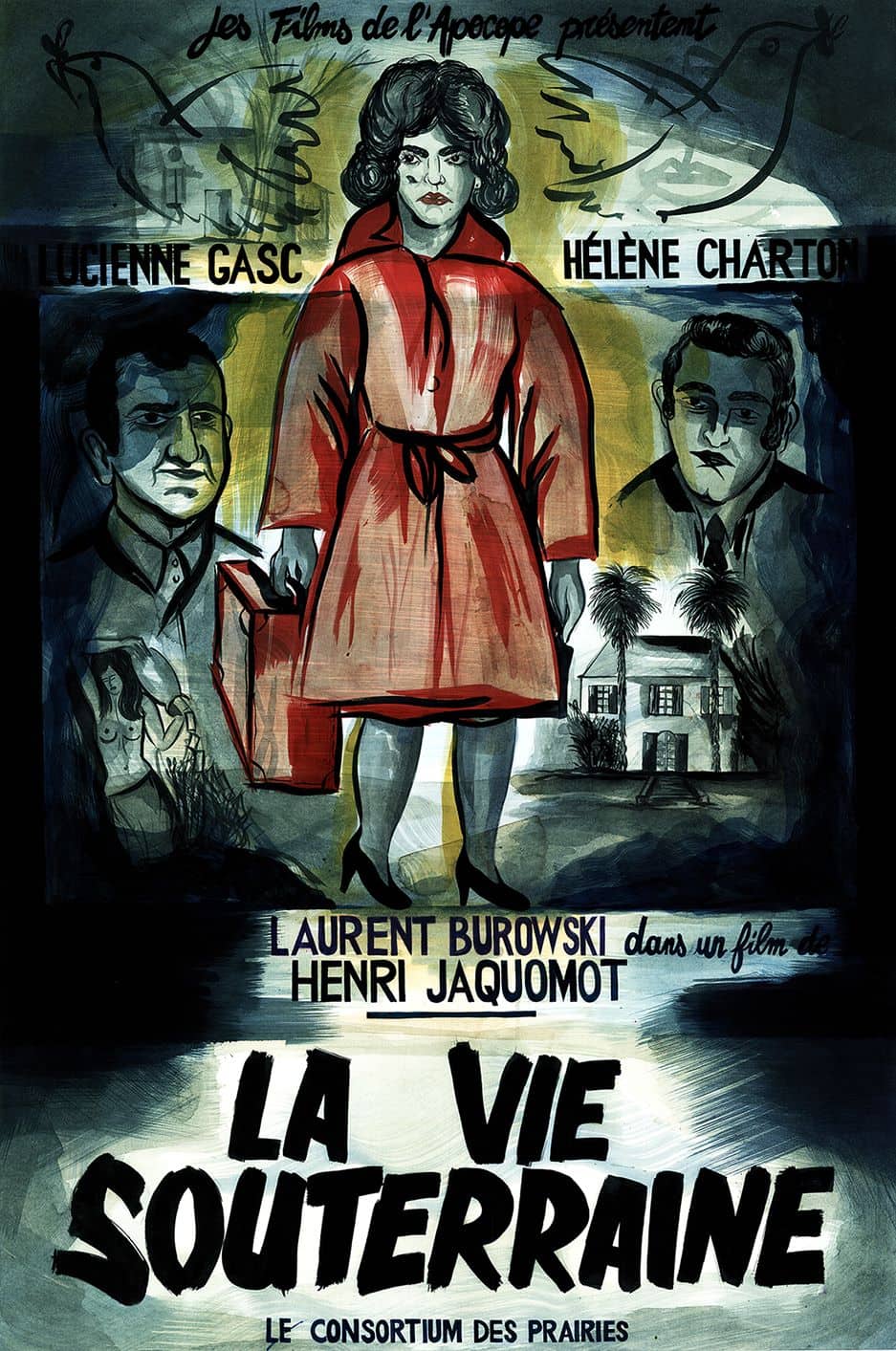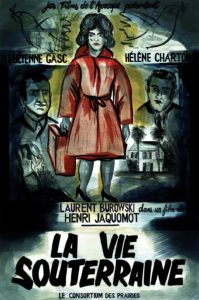 Camille Lavaud, La Vie Souterraine, Poster, 2017, inks on paper © Camille Lavaud
At Camille Lavaud, drawing is a choice of rigor and freshness, measurement and overflow. While it does serve as a support for the idea, an expressive preoccupation, an imaginary effervescence, it nevertheless retains a margin of play to which its evocative capacity is particularly vivid. It is marked by the reconciliation of various sources, but also welcomes antagonistic temptations. His energy borrows from comics, cinema, art history, biographical resonances and digs the furrow of a realism never frozen, always jostled, which responds to the calls of the fantasy of poetry and also of restitution on overlays of registers and variations in tones. »
Didier Arnaudet, art critic
Paul Grimault is a French animated film director.
In 1929, he joined the advertising studio of the Damour Agency as a draughtsman. There, he met Jean Aurenche, Jean Anouilh and Jacques Prévert. He played small roles in films such as Jean Vigo's L'Atalante.
In 1936, together with André Sarrut, a film producer, he created the animated film company Les Gémeaux, which developed until about 1950 and then went bankrupt. After the production of several commercials and animated short films, Les Gémeaux began in 1947 a feature film based on andersen's tale, La Bergère et le Ramoneur. Despite the motivation of the 150 employees of Gemini who are involved in this feature film project, Paul Grimault and Jacques Prévert face great financial difficulties to complete their film after five years of hard work.
On May 13, 1953, the press announced the release of the film on May 29 and a budget of more than 600 million Francs.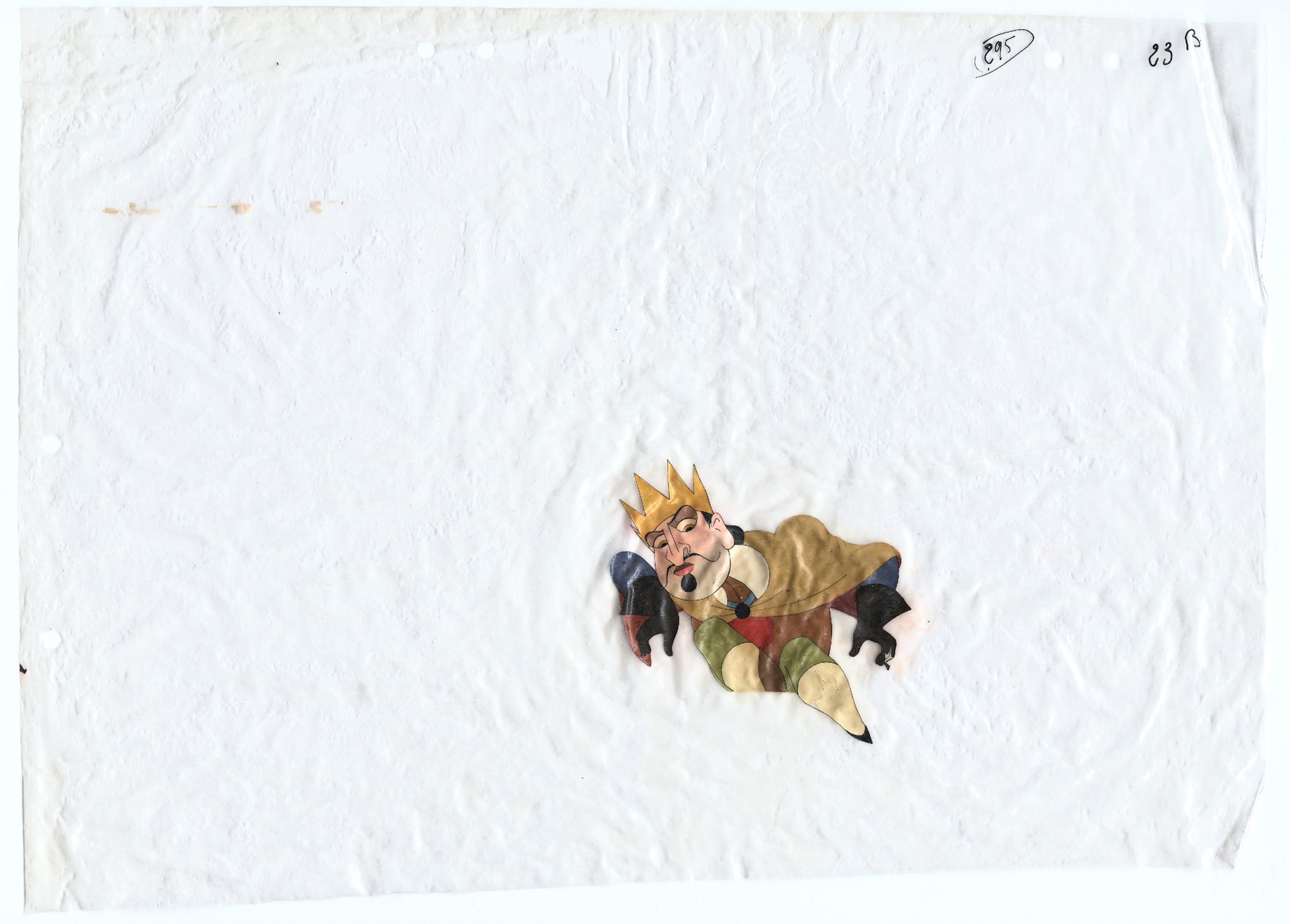 Paul Grimault, La Bergère et le Ramoneur, 1948, animation celluloid, French Cinematheque Collection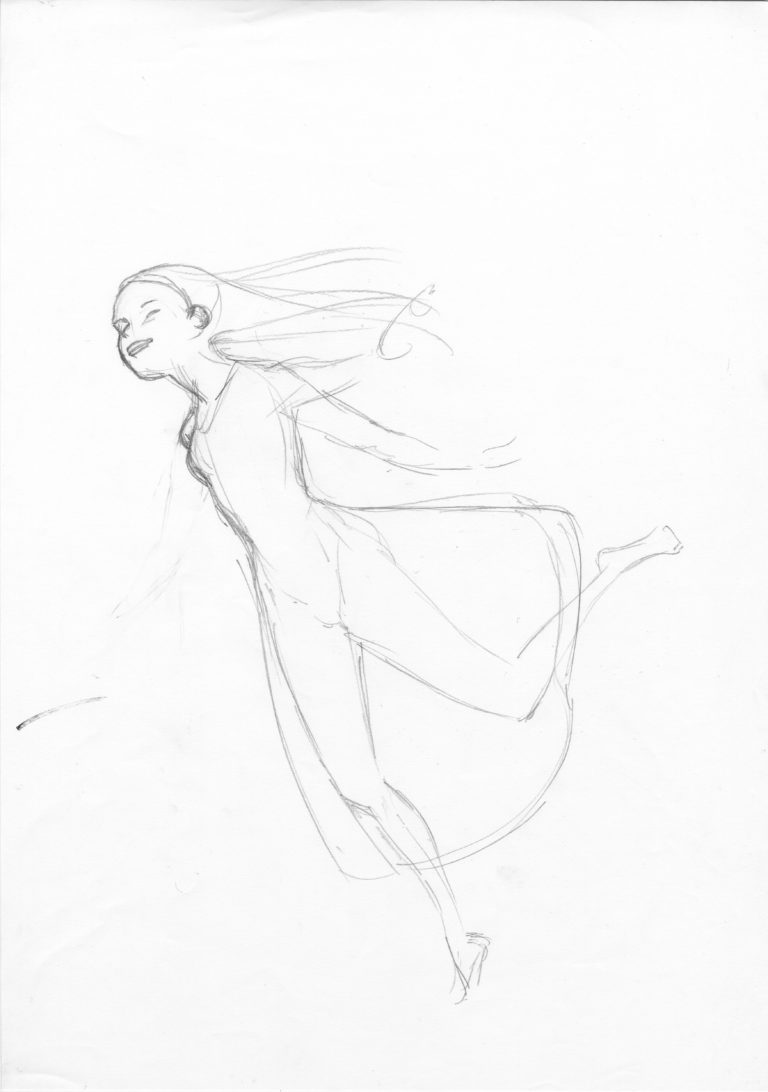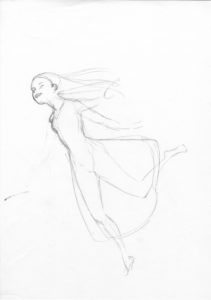 Sébastien Laudenbach, La jeune lle sans mains, 2015, model of af che, French version, ink, ink washes and graphite mine,
© Sébastien Laudenbach
A graduate and then a teacher at the Decorative Arts of Paris, Sébastien Laudenbach experimented with animation through sand, cut paper, volume and drawing. His experiments in the Potential Animation Opener (Ouanipo) open him to the cryptokinographic method (literally writing hidden in motion"), a process of representing the figure on the screen by movement, where a photogram does not allow this complete. Her animation free, spaced, flashing, colorful, free of the storyboard, often improvised plan by plane, bursting shapes and colors to make them malleable, his feature film the girl without hands, drawn alone for nine months. This film won him the Jury Prize at the Annecy Festival in 2016.
Mathieu Dufois was born in 1984 in Chartres. He lives and works in Tours.
Between 2002 and 2007, Mathieu Dufois studied visual arts at the Le Mans School of Fine Arts. After graduation, he worked in the Courts of Assisi to make portraits of accused for local newspapers.
It was in 2008, during his participation in the Mulhouse Biennale, that he won the first prize of the Young Creation. From then on, his work was disseminated in various art centres, including the CRAC in Sète, and the CCCOD de Tours. His works have also been presented at various fairs such as Drawing Now, Art Paris or the Armory Show.
Since 2010, a strong collaboration has been created with the musician Marc Hurtado does not compose the soundtrack of his films located between animation and experimental. Passionate about cinema, Mathieu Dufois continues to explore his favorite tool, drawing, articulating it with cinematic art, sound material and installation.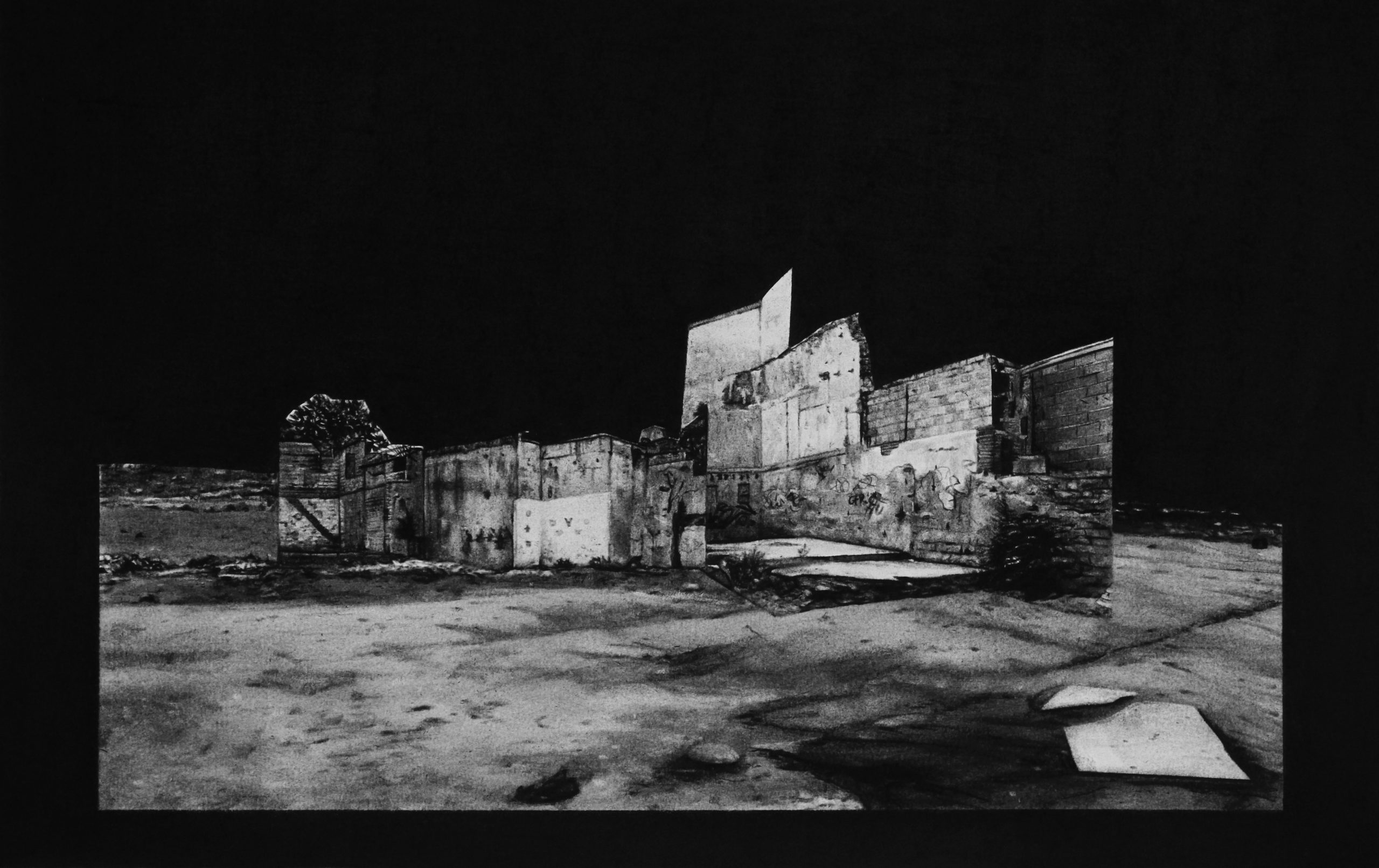 Mathieu Dufois, Maquette, 2019, black stone drawing, 46 x 71 cm © Mathieu Dufois and Galerie C, Neuchâtel (Switzerland)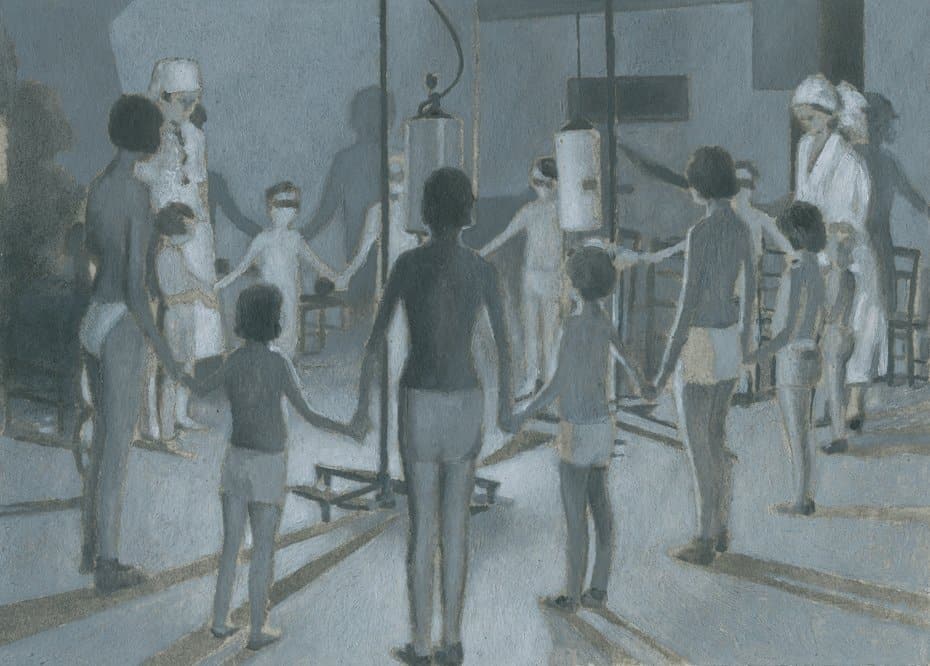 Antoine Marquis, Light Therapy, 2012, graphite and acrylic on paper, 52 x 72 cm
© Antoine Marquis
"The relationship to cinema, to the iconography of cinema, plays a central role in my work as a draughtsman.
I constantly sing to filmmakers like Eric Rohmer, Georges Franju or Henri-Georges Clouzot, don't I feel very close in terms of affect, aesthetics and poetics. More generally, cinema, which has drawn heavily from the repertoire of the history of painting and drawing, in turn constituting a reserve of striking and fleeting images that could fuel the research of painters and draughtsmen. The images of the cinema work and work us. They fit in us as traces and bifurcations in the corridors of memory and dreams, collegial to us as the "onological glue" described by Serge Danet in The Karma of Images.
They constitute and enrich our inner world, like so many sediment-books of a temporality and identity both shifting and in search of fixation, materialization in a tangible physical reality. These fertile images just need to be made and multiplied by other images. It is from this work of sedimentation, reappearance and fixation (through drawing) that my work is partly carried out. I could go so far as to say that my work can be read as a set of document images or preparatory images of a film that will never exist without doubt. These documents constitute as many scouting of sets (or motifs, searches for objects, figures, situations) for an unlikely film that would oscillate, say, between the fantastic fantasy of Judex by Georges Franju and the poetic harshness of Noise and Fury of Jean-Claude Brisseau.
Akira Kurosawa is a Japanese director, producer, screenwriter and editor, born in Tokyo on March 23, 1910 and died in the same city on September 6, 1998. Along with Yasujirô Ozu and Kenji Mizoguchi, he is considered the most famous and influential Japanese filmmaker in history.
In his fifty-seven-year film career, he directed more than thirty films.
He began as a second assistant director, wrote his first screenplay in 1940 and was given his first film son, The Legend of Judo in 1943. Kurosawa is already a victim of censorship, his film is amputated by about twenty minutes.
In 1948, The Drunk Angel, with his favorite actor, Toshiro Mifune is the first turning point of his career. In 1950, with Rashomon, Akira Kurosawa was recognized around the world with a Golden Lion at the Venice Film Festival in 1951.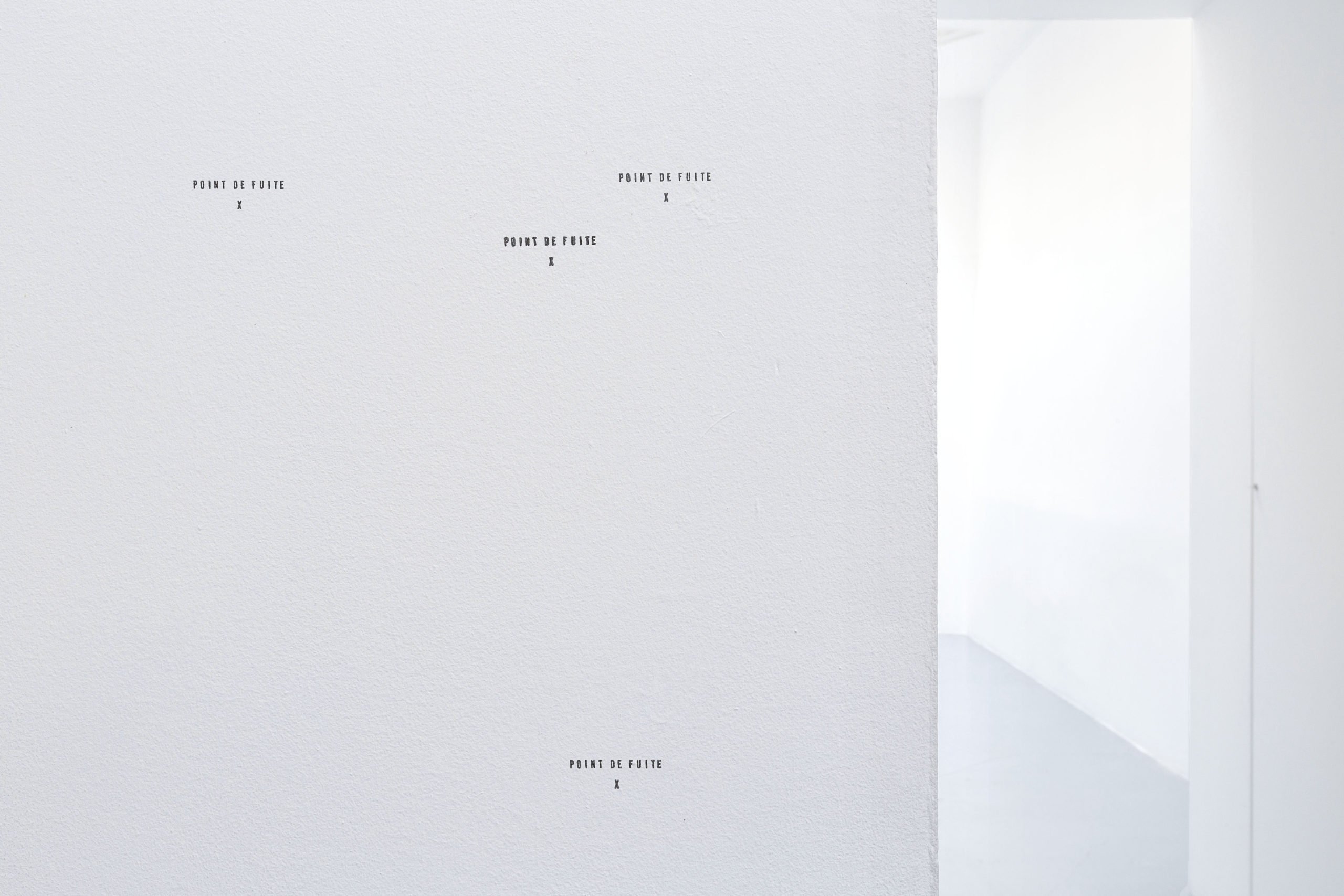 Elsa Werth, Escape Point, 2017, stamp, ink, variable dimensions © Elsa Werth
Elsa Werth develops a work in the recognition of the derisory acts as a provocation, a test of the space and the environment in which it fits. It plays with customs and takes an amused look at ordinary actions, the signs that we have been given and make our daily lives, prefabricated gestures to contemporary ritual activities.
Through a multiplicity of media, a telescoping claims data and registers, Elsa Werth an economy of means, anti-spectacular gestures as so many tactics of resistance that calls into question the conditions of appearance of a work and representation systems in an administered and programmed environment.
His work has been exhibited in exhibitions in France and abroad (Mudam Luxembourg, Société Bruxelles, Biennale de Coimbra, Centre d'Art Bastille Grenoble, Creux de l'Enfer Thiers, Centre d'Art Albert Chanot Clamart, ZK/U Center for Art Berlin). His work has also been the subject of solo exhibitions at the Centre d'Art de l'onde (Vélizy-Villacoublay), Interface (Dijon), Primo Piano and the Martine Aboucaya gallery (Paris) as well as the Bazar Compatible program (Shanghai) and Duplex/Walden (Geneva).
Alejandro Jodorowsky is a French-Chilean artist. After studying philosophy and psychology, Alejandro Jodorowsky quickly moved towards an artistic career that began when he emigrated to France in 1953. He worked on the mime with Marcel Marceau
for the creation of pantomimes like La Cage. Passionate about surrealism, in 1962 he founded the Panic movement with Fernando Arrabal and Roland Topor, which gave rise to happenings that were as disturbing as they were offbeat. In 1965, he went to Mexico to create the Théâtre d'Avant Garde, where he staged plays by Beckett, Ionesco, and Strindberg.
He then turned to film and founded the company Producciones Panicas through which he shot his first feature film, Fando et Lis, adapted from a play by Fernando Arrabal. A surreal and violent fable, the film caused a real scandal when it was screened at the Acapulco Film Festival where it was presented. Despite numerous threats, he continued his work as a filmmaker and in 1970 directed the psychedelic western El Topo. A pendant screened more than seven months in New York, it becomes a cult lm for fans of underground cinema. Encouraged by John Lennon, Jodorowsky directed The Sacred Mountain, an esoteric and mystical journey of a wanderer to the false airs of Jesus.
Back in France, he began working on an ambitious adaptation of the sci-fi novel Dune. On this occasion, he managed to bring together many talents: from Salvador Dali to H.R. Giger to Orson Welles. Unfortunately, the project did not succeed due to a lack of resources. He finally shot Tusk in 1979 and turned away from the big screen for a time before returning with Santa Sangre in 1989 and The Rainbow Thief in 1990 where he accepted for the first time the constraints of a production. He then turned to comics and collaborated with Moebius. After a few attempts, Alejandro Jodorowsky is back in 2016 with Poesa sin fin, which he defends at the Directors' Fortnight of the Cannes Film Festival. Jodorowsky being a highly productive artist and intellectual, his career is not limited to film. He is also the author of numerous works in other fields (comic strips, novels, fables, plays), several essays as well as autobiographical works.
William Kentridge was born in 1955 in Johannesburg where he lives and works.
After studying in Johannesburg — University Witwatersrand, (1973-1976); Johannesburg Art Foundation (1976-1978) — he stayed in Paris where he studied at the Jacques LeCoq International Theatre School (1981-1982).
In 1997, he gained international recognition through his participation in Cassel's Documenta X and the Johannesburg and Havana biennials.
Although his "cartoons" are often like movies, Kentridge gives them the name Drawings for Projection (drawings for projection). He creates them using a particular technique that consists of creating, then carefully removing and reworking charcoal drawings that he photographs and then projects in the form of animated images. The movement in the image is created manually by the artist, the camera only serves to record its progress.
5pm: Speak in French
Talk around the Exhibition Tout un film! cross-breeding between the Collection of La Cinémathèque and the practice of contemporary drawing.
With:
Françoise Lémerige, responsible for the treatment of the collection of drawings and plastic works at La Cinémathèque Française, Paris, France
Joana P.R. Neves, artistic director of the show, Paris, France and London, United Kingdom
Camille Lavaud, artist, Bordeaux, France
Mathieu Dufois, artist, Tours, France
Elsa Werth, artist, Paris, France