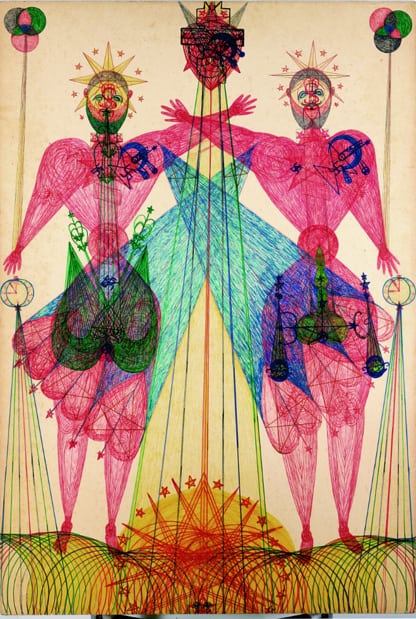 The donation of art brut Bruno Decharme
Curator: Cristina Agostinelli
Visit with the curator on Friday 20 May at 10.45am on Level 5.
—
Exceptional visit of the exhibition of the second hanging of Bruno Decharme's art brut donation.
The Musée national d'art moderne (Mnam-Centre Pompidou) is enriched by the exceptional acquisition of 921 works by 242 artists from Bruno Decharme's art brut collection. Presented at the second acquisition commission that met on June 2, the donation consists of works belonging to the fields of plastic arts (374 works), graphic arts (540 works), and photography (7 works).
The heart of the exhibition:
For Bruno Decharme: "It was essential for me to create a corpus bringing together
the major pieces of the collection. Many have no equivalent and are now nowhere to be found. To make them inalienable, to protect them from the risks of dispersion linked to the vagaries of time and family successions. To highlight them by offering them to a prestigious museum. To allow the creation of a pole of art brut that participates in shaking up the dogmas of thought, participates in thinking about art differently. Finally, to give back to these creators so often ostracized the place that belongs to them alongside great recognized names. And more simply offer the visitor the opportunity to discover or review extraordinary, enigmatic works. »
The collector's choice was made according to two main axes: the reference figures of Art Brut, including those retained by Jean Dubuffet and the works of the last thirty years in the continuity of the "classics". The selection also took into account
the possibility of developing certain themes specific to art brut, such as mediumistic works, great scientific inventions or the creation of languages.
Many nationalities are also represented in this selection.