Visit the HEY exhibition! Drawing
Visit with the curator of the exhibition Anne Richard, Friday, May 20 at 10 am.
—
The Halle Saint Pierre presents from January 22 to December 31, 2022 a new exhibition that will be dedicated to drawing: HEY! Drawing. After four founding exhibitions dedicated to pop culture (2011, 2013, 2017 and 2019), the Halle Saint Pierre and the magazine HEY! modern Art & Pop Culture are teaming up again to continue their exploration of the alternative art scene.

HEY! Drawing
Drawing is honored as a fundamental creative gesture and the possibilities of development it arouses. By l'exclamation HEY! Drawing, the exhibition immediately manifests its intention: to summon surprise, curiosity, wonder, rejection, attraction, emotion, anguish. She has no claim to completeness, nor to a history of drawing.

The exhibition brings together sixty international artists to which are added an unprecedented set of japanese prison art works as well as preparatory drawings of graffiti approached under a new look. It offers a wide visibility to arts carrying a contemporary aesthetic in which the creative energy of the counterculture is a double force of proposal and contestation.

We will indeed find in this exhibition the seditious figures of lowbrow art nourished by the iconography of the popular media, the fantasmographies of surreal pop rediscovering the heritage of the great pictorial traditions, the free tribunes of street art and the "me-skin" of tattooing, the individual and solitary escapes of art brut and the refined and libertarian expressions of an "eye in the wild". Artistic otherness is presented in its diversity and complexity as a form of resistance against the impoverishment of our collective imagination.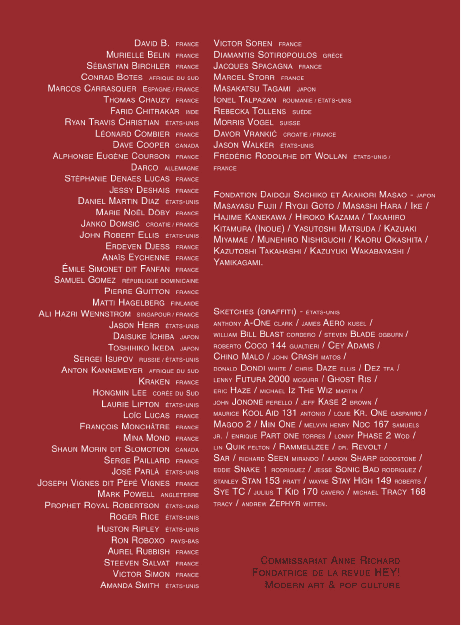 Halle Saint-Pierre
2 Ronsard Street
— 75018 Paris